High Security Locks Washington, DC – Locksmith Solution Washington DC
Make your property and your life extra secure with High Security locks:
In the statistics of rising crime rates, home invasions and break-ins are on an all-time-high. This may seem as a simple static, but it is the reality of today's hard and cruel world. Therefore, at such a dangerous time it is vital for you take extra measures to protect your life and property and the best way to do so is with high security locks. It is important to use Locksmith Solution Washington DC, a well-reputed and professional locksmith service in the Washington, DC area to install your high security locks , otherwise you might get conned out of your hard-earned money by an ill-experienced locksmith agency.
The advancing technology has not just aided in the progress of good but it has also made burglars, thieves etc. more cunning in breaking locks, but high security locks will surely prove to be a great hurdle for them to pass.
Beware of lock bumping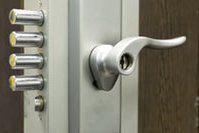 A common lock picking technique is that of lock bumping. In this technique, a specially crafted bump key is used to open a pin tumbler lock, but in order to function properly the bump key must correspond to the target lock. This technique is very easy to master as many criminals have easy access to bump keys because various sizes and types are sold online. Simple locks are highly susceptible to this form of lock picking, but high security locks are immune to such techniques.
Necessity of High Security locks
When the matter of safety is at hand you should always follow the saying 'Precaution is better than cure'. Your simple locks may protect you now but when that simple lock faces an experienced thief then it may fail to secure your life or property. Whereas a high security lock provides an extra layer of security thereby, protecting your life and property from lock picking, lock bumping, home invasions and much more.
Choose from our range of High Security locks
Any product you buy must be of good quality otherwise, it is considered a sheer waste of your money. Therefore, to get a wide variety to top quality locks you need to consult Locksmith Solution Washington DC - a trustworthy locksmith. We have a wide variety of high security locks ranging from Medeco to Mul-T-locks, so you can choose based on your personal preference.
Be safer and secure, by contacting Locksmith Solution Washington DC and installing top-quality locks at the earliest.