Locks Replaced Washington, DC – Locksmith Solution Washington DC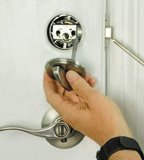 Security of you and your family is an important aspect to consider especially when you look at the rising robbery and break-in rates. The most basic form of security that most of us use for our properties, be it homes or vehicles, are locks. Like any manmade product, locks too face technical issues and get rusted or jammed. When you face such issues you cannot unlock the lock and the most advisable thing to do in such a situation is to get the locks replaced.
When your electronic gadgets get old or spoiled you replace them. Similarly, your locks also need replacement. You may just think that with a little maintenance the locks will be fine, but you neglect to understand the compromise you will be making with your security. Therefore, it is a must to get your locks replaced in Washington, DC by a reliable locksmith like Locksmith Solution Washington DC.
Stuck between repairing or replacing the locks?
When the locks get jammed or stuck you simply repair them but you forget to acknowledge that repairing is just a temporary solution and it brings up the possibility of future issues as well as repairs. Hence, it is advisable to get the locks replaced , this will not only resolve all your issues, but will also deter any attempts at break-in because you'll have a brand new lock protecting your property.
Which lock to choose?
Choosing a lock must be a well thought out process, as you will be using this lock daily and if it is not up to your comfort level you might get irritated or frustrated in using it. Locks, like fashion are suitable based on the person's preference; someone may like a high-tech lock while others may prefer a simple one. To avoid any future issue or current confusion, it is highly suggested that you consult locksmith experts like Locksmith Solution Washington DC while getting your locks replaced as we will advise you on the various locks available and help you make the pick.
Can I replace the locks myself?
The many DIY videos and books make the replacement of locks look simple and easy, but on the contrary, it a very tedious and hard job. The job of lock replacement must always to be done by a professional locksmith thereby, ensuring the security of your property. One such expert is Locksmith Solution Washington DC and we assure you that within minutes of your call we will come to your rescue.
Be safe than sorry and get your lock replaced by Locksmith Solution Washington DC in Washington, DC area by simply dialing 202-715-1347.