Transponder Keys Washington, DC – Locksmith Solution Washington DC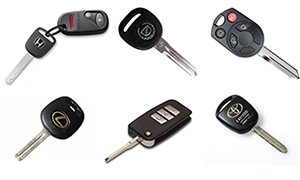 Transponder keys refer to the keys that are equipped with a transponder or a transmitter chip that disarms a vehicle's immobilizer when the car's engine is being started with the car key. In today's world these keys are very common as they are quite equipped to fight against anyone attempting car theft.
How does it work?
The working of a transponder key is quite similar to that of a television remote. The transponder chip present in the car key sends a special request (digital identity code) to the car's engine when the key is inserted. Upon receipt of the precise signal, the vehicle starts.
Advanced anti-theft features
Cars without transponder keys are very easy to steal as their keys can be easily replicated by the thief. The key sends signals to the car's engine and each signal is unique therefore, making it very hard for the thief to replicate and program the keys in order to steal the car. There are also new-age keys that come with rolling codes which implies that the encryption changes with each use making it nearly impossible for criminals to crack.
Transponder key replacements – why are they expensive?
Transponder keys are quite useful to secure your car from theft or break-in and they come with the car therefore, you fail to realize the cost it takes to manufacture these keys. As we already know that these keys work on a transponder chip that is provided by the car manufacturer, if you lose or it then you must call your manufacturer up for a replacement. Replacing car keys is a tedious and costly process because the transponder chip's programs and signal must be copied exactly otherwise, you won't be able to access the car. But a reliable locksmith like Locksmith Solution Washington DC in Washington, DC can replicate the key at an affordable price.
The perfect auto locksmith for all your transponder key needs!
It is very easy to misplace or lose your car key therefore, the need for a spare or a new key arises and when such a situation occurs just give Locksmith Solution Washington DC a call. Our auto locksmith experts can help in producing or replicating your transponder keys with acute accuracy and swiftness at a very reasonable price. The car key might be for a simple sedan or a convertible; our experts are ready to serve you, no matter the make or model of your vehicle.
For all your transponder key needs, contact Locksmith Solution Washington DC